EDIT MAIN
WUSD has developed a draft plan with input from administration and teachers on how to reopen schools safely. I expect that this plan will have changes to it as time, data and procedures change. A major goal before coming back on site is to develop a viable academic plan, share it with our parents and then poll our parents to determine who wants to send their students back to on-site learning. Without question, WUSD will be following all the County Health Department guidelines for example; masks will be required, social distancing as much as possible, and small cohort sizes. I envision there is a group of parents who are not going to send their child back regardless of the hybrid model we have in place and others who are passionate about getting them back in even if it's for a short period of time. WUSD wants to provide what the community needs and will have options for either on-site or to continue with distance learning. In order to provide our parents with choices it may require some staff movement and could take some time to put in place. WUSD will be doing a survey with the parents of all students to get information back to help plan for a reopen, whenever that can take place.
The district has all the PPE necessary for staff and students. Every classroom will have a hospital grade air purifier and daily disinfection. Each site will have a set of health standards protocols. (Attached)
At this time, COVID numbers are growing daily and reopening in a fully hybrid model is in not a good idea. The District also has several import safety items on back order, such as air purifiers.
Currently WUSD is allowing students on campus to meet one on one with their teachers as needed, and providing direct services for our students with special needs. In the next few weeks, I would like the coaches to begin athletic conditioning with our students, following all the rules established by the athletic department. With the holidays approaching this is an opportune time to refine the practices and protocols. After the holidays, in mid-January we will have data to determine if it is allowable to reopen.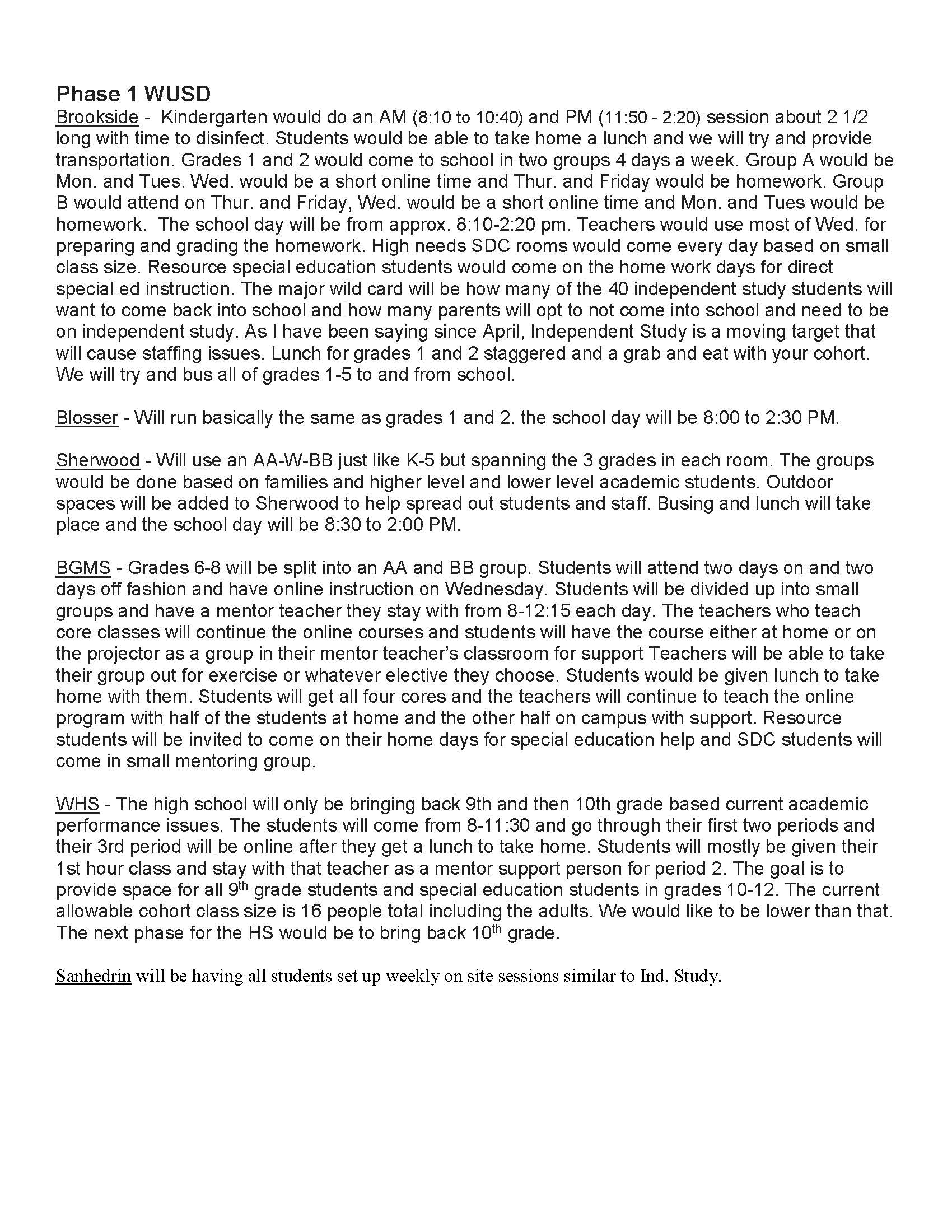 WUSD Health and Safety Procedures and Protocols as of 11/11/2020
Parent Survey on WUSD Reopening 11/11/2020